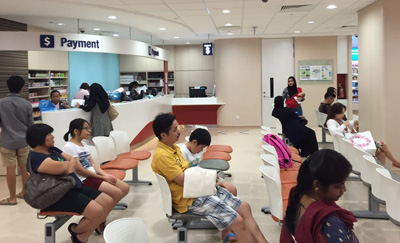 Hospital QUEUE Management Software System for Managing Queues and Patient Flows
The number of seriously ill patients admitted to hospitals has increased steadily over the years, and overcrowding of Out Patient Department (OPDs) and the wards is most common nowadays. To reduce the overcrowding problem, we introduce the
best Hospital Queue Management System
Solution. This software system is designed to optimize patient flow and improve the overall quality of service.
Using, Queue Management Software System, patients can easily - check-in and receive real-time updates on their appointment status, reducing wait times and improving patient satisfaction. With features like appointment scheduling, patient tracking, and automated notifications, our Queue Management System helps reduce administrative burden and enhance operational efficiency.
Benefits of Hospital QUEUE Management Software
Queue management software helps hospitals and clinics to manage the flow of patients. It can be used for tracking patient wait times, assigning patients to providers, and providing real-time updates to staff and patients.
A queue management system can be used in a healthcare facility to achieve many benefits:
Reduced Patient Wait Times: Queue management software can reduce the wait time for patients by streamlining patient flow. It is possible to do this by assigning providers to patients based on availability and needs and providing patients with real-time updates on their waiting times.
Improved Patient Satisfaction: Patients who wait in long queues are often frustrated with their healthcare experience. Queue management systems can improve patient satisfaction by reducing waiting times and giving patients real-time updates.
Increased Staff Efficiency: Queue management software can increase the efficiency of staff by automating many tasks associated with patient flow management. It can allow staff to spend more time on other tasks such as caring for patients.
Why choose Tenwave QMS for Hospital & Clinics?
We are best healthcare IT service provider in India and our Queue Management Software System is a very useful tool that can help hospitals and clinics to reduce waiting times for patients, increase patient satisfaction and improve staff efficiency.
Here are some main features of Tenwave Hospital Queue Management Software Systems:
Self-service queueing: Patients can check-in using a smartphone app or kiosk. It eliminates the need to manually check in patients, freeing up time for staff.
Real-time updates: Patients receive updates in real-time on their wait time and their position. They can also estimate the time it will take to see a provider. This reduces patient frustration and anxiety.
Appointment scheduling: Patients can schedule appointments using Queue Management Software. It can reduce the number of patients waiting in line.
Analytics: Queue Management Systems can collect data about patient wait times, availability of providers, and other factors. These data can be used for improving the patient flow and identifying areas that can be improved.
There are some things to consider when implementing a system for queue management in your hospital:
The size of the hospital: Your hospital's size will determine how complex and large a queue management system is needed.
The type of patients you serve: You need to consider the type of patient you are serving. A hospital with a high number of pediatric patients, for example, will require a system that is different from a hospital with a high number of geriatrics patients.
Your Budget: The price of queue management systems can vary from a few hundred dollars to thousands. Choose a system within your budget.